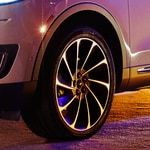 Here at Mtn. View Lincoln, we know your car is a safe space where you enjoy spending a lot of your time. When you are driving around Chattanooga, you want your Lincoln Nautilus to turn heads because of its impressive design, but you also want to feel your car is welcoming you each time you approach.
Few midsize luxury crossover vehicles have the welcoming nature of the Nautilus that gives you a light show each time you approach. The welcome you receive each time you approach your Lincoln includes a projected welcome mat at your door that makes it a little easier for you to find your way to your Nautilus.
Lighting should also keep you safe with the all-LED lighting available with the Lincoln Nautilus helping you stay safe on the road. Whenever you take to the roads your Lincoln Nautilus will shine like a beacon of safety and excellence in design.