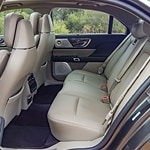 Driving today is all about the experience. You want a car that is comfortable to drive and really helps you to enjoy getting from one place to another. With these performance features on the Lincoln Continental, that is exactly what you will find. These are the reasons why the Continental has become one of the more popular luxury cars on the road today.
Check out the auto hold braking feature. When you approach an area where you need to stop, the system will sense that. Just touch the brake and it will hold your position. The car will go again when you press the accelerator.
You will also want to check out the adaptive suspension. There are three different types that are used depending on the type of terrain you are driving over. This will keep you comfortable no matter where you happen to be. Mtn. View Lincoln would like to invite down to test drive the Lincoln Continental.